Posted on


March 11th, 2015
Kristen Tyrrell: "My Good Wishes Story"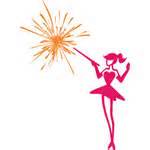 Hi Good Wishes Friends! In February, we sent out an E-blast asking for Good Wishes recipients to share their story. One of those stories is shared below. Thank you for sharing your story, Kristen!
Warmly ~ Stacey Wilson, Good Wishes Executive Director
---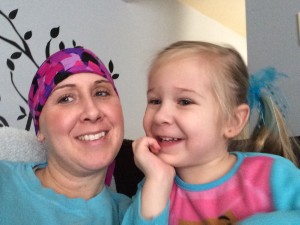 My name is Kristen Tyrrell. I just wanted to share my story with you and how the beautiful head wrap I received put such a smile on my face.
I was diagnosed with stage three colon cancer on November 5th 2013 (I'll never forget that date) I was 32 years old. After being diagnosed, I needed surgery ASAP…they removed half of my colon. (That was the easy part of my journey!)
Next, came the months of torture…six months of chemotherapy.
All the oncology nurses try to prepare you for all the chemo side effects. I know it sounds superficial, but my only question was "what about my hair?!" As much as I hated the idea of being bald, all I could think about was my two young beautiful children. How will it affect them, seeing their mom with no hair…it broke my heart just to think about it.
And, my handsome husband…will he still look at me the same? So of course, I did all my research. From what I read, it told me I might not go completely bald, that my hair would get very thin and patches of it would come out. (That's pretty much what happened). So I prepared myself…I went shopping…for scarves and hats!!! I found so many cute ones!
Through all my research, I found your website.
When I received my head wrap in the mail, I had totally forgotten all about it. It put such a smile on my face…it was so beautiful!!! I loved the card too, all the kind words were so uplifting!
After looking at it, I tucked it in my draw and thought "let's hope, by some miracle, I don't need it!"
After one treatment, my hair already started thinning. I would brush it and small clumps would be in my hairbrush. It was making me so sad and depressed. My husband hated seeing me so sad and upset. We then talked about the possibility of just shaving it….so thats what we did! We talked with our kids and tried to prepare them the best we could.
That was one of my hardest days. I cried pretty much the whole time my husband shaved my head. Seeing all my beautiful hair on the floor, getting thrown away. The hardest was when my kids saw me for the first time. My six year old son thought it was cool! (Thank god!) My four year old daughter ran to her room and cried…it completely tore me apart. I'll never forget that look on her face, like she didn't even recognize her own mommy…it was heart breaking.
After that, I pulled out my beautiful head wrap and put it on. I went in my daughters room and laid down with her. We talked, cuddled and gave kisses! She said to me "mommy I really love your scarf, it's so pretty…you look beautiful" That's all I needed…I knew she'd be okay!
What your company does is AMAZING and so GENEROUS!!! I can only imagine the impact you have on other cancer patients. I honestly can't thank you enough!
Thank you!
Kristen Tyrrell
Cancer FREE- 10 months