Posted on


December 20th, 2014
Ambassador Feature: Kyle Denny
This month we would like to feature the work of a very special Good Wishes Ambassador, Kyle Denny. Kyle, shown below, was a Good Wishes recipient in 2013. She recently hosted a "Fund It Forward" event for Good Wishes, raising over $2,000.
Having also held a fundraiser last year, Kyle was able to simplify planning the 2014 event with the help of the exceptional contacts she had already established. Contributions were made both online and in person, including one donor who contributed $1,000.
Kyle's "Fund It Forward" event had over 20 raffle prizes! These prizes were generously donated by friends, family and the local community. Raffle tickets for select premium prizes cost $10 each, while entries for other prizes were $5.
The Kemper-Macon Ware Masonic Lodge kindly donated the use of their facility, as well as supplies, food, drinks, and even a bounce house. If you'd like to help support Kyle's "Fund It Forward" work, please click HERE. There are several donation options available, but Kyle selected this one to be the primary as she found it uniquely simple for donors to navigate and make a contribution.
Click HERE to see the Flipagram slide show that Good Wishes Director Stacey Wilson made as a "Thank You" to Kyle! This photo montage with music will give you a sense of what Kyle's "Fund It Forward" event was like. Kyle and her wonderful volunteers filled the room with beautiful decorations and informative posters showing statistics about cancer, both nationally and on a local level.
Kyle shares on FB: "All of these pictures are from December 1. Top row: 2012 within hours of each other. Bottom left: 2013. Bottom right: 2014. I still miss my long RED hair. But I'm happy that 2 years later I have hair (and it finally has a style!) and I'm cancer free!!"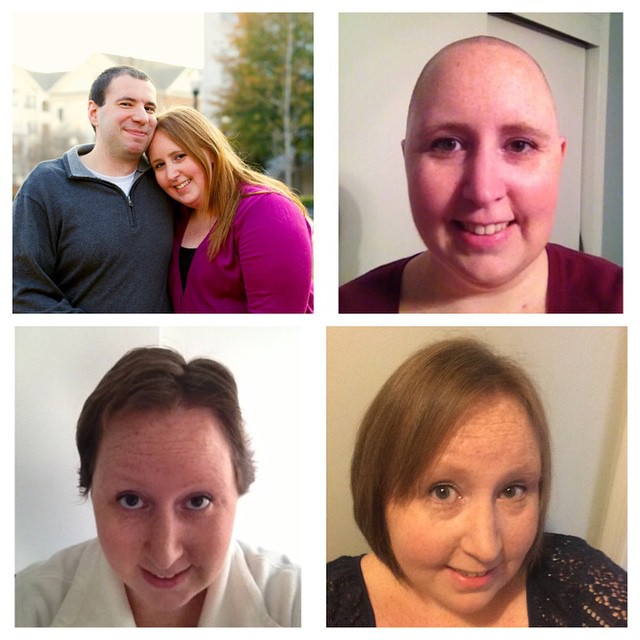 Are you interested in becoming a Good Wishes Ambassador? We have a resource for you! Ambassadors are people in communities around the country who reach out, share our mission, and help us raise funds for our cause through local fundraisers. Click here to learn more!