Posted on


August 11th, 2014
Meet Stacey Wilson – Good Wishes Executive Director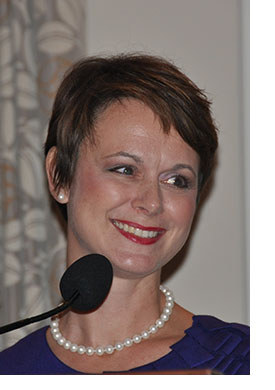 The Good Wishes Program©, based in North Bend, WA, is pleased to announce the appointment of a new Executive Director; Stacey Wilson. The new Director will be responsible for developing partnerships, fundraising, building community support, coordinating volunteers, overseeing grants and managing the recruitment and development of Good Wishes Ambassadors. In this new role, Stacey will also serve as the spokesperson affiliate and be responsible for sharing the Good Wishes mission. Stacey will report to the Good Wishes Board of Directors.
As a person who has multiple family members and friends who have confronted cancer, Stacey brings her own life experiences in addition to her extensive volunteer training to the Good Wishes Program. Her professional experience includes creating compelling marketing campaigns for non-profit organizations and Stacey specializes in email outreach, content marketing and social media. In her career she has worked as a professional teacher, served as President of the Junior League of Lancaster, PA, Inc., and is a committed volunteer for civic and philanthropic causes.
Stacey has been very active supporting non-profit organizations close to her home including: The Junior League of Lancaster, PA, Inc., United Auxiliaries, St. Mary's Catholic Church, and The American Cancer Society. Stacey participates in the American Cancer Society's Relay for Life (Lancaster, PA) annually and will be walking the Susan G. Komen 3-Day (Philadelphia, PA) September 12-14, 2015. Stacey has in in-depth experience with charity events and will bring a new perspective and knowledge to the Good Wishes' ongoing fundraising and outreach efforts.
"Stacey and I have shared a very special relationship since 2009. She was our very first Good Wishes Ambassador. Her unique ability to connect with people and her passion to make a difference in the lives of others is a valuable combination," said Laurie Erickson, Good Wishes Founder. "With her vibrant personality and spirit, I know she'll hit the ground running and help us share the Good Wishes mission both locally, in North Bend, and around the country," said Good Wishes Board Member, Patti Blumenthal.
"I get the unique opportunity to work with an organization and in a role that fulfills my desire to serve in the arena of cancer care by helping people who are experiencing hair loss due to injury, illness, or treatment," said Stacey Wilson. "It's the perfect intersection of passion, purpose, and experience. My life, it seems, has been a series of events that have uniquely prepared me to help The Good Wishes Program succeed."